1989-1999
1989-1999 CLICK TO READ
1989 June: I leave school aged 19 with 6 O levels and 3 A Levels. I have no interest in going to university, I want a job!

1989 September: I start work at a high class department store selling expensive furniture. The company pay for me to go on an exclusive sales training course with a big wig!

1991: I work as a high flying, suit wearing financial adviser! In effect I am just selling insurance and pensions to friends and relatives!
1993: I decided to set up my own business.
1994: I came really close to almost making it work and it had huge potential. Eventually after much effort, the business failed. It wasn't all bad, I had along the way learned some good business acumen, yet I had paid a price. I was only 24 and'burnt out'! After the failure of my business, I had time to reflect about how much stress I had been under day after day! So after much thought and deliberation I asked myself, what is it that I am really interested in doing with my life? I was at a career crossroads and, after some thought I made a decision to not just make money, but to make a positive difference! Later that very same morning I saw an advert in the Guardian newspaper offering stress management training courses. Coincidence? I prefer to think of it as the late great Carl Jung said,'Synchronicity'
1994- 1996: I trained and qualified as a Stress Management Consultant and became a member of The UK Stress Management Society.

I focused on the mental side of stress. I learn powerful, natural, drug free alternatives to help clients reduce stress and it's damaging effects upon the mind and body.

These include Meditation & Yoga. I began to use the techniques myself, and after 12 weeks of yoga and breath exercises, my sleep had improved dramatically and my resting pulse had gone down from 76 BPM to 44!
1999: I watched a health documentary called 'Breathless' on BBC television. This was about a special breathing technique that could apparently 'cure' asthma! I watched the programme and was that impressed, I called the BBC the next day and after a bit of smooth talking to the receptionist I actually managed to get the mobile telephone number of the Russian Buteyko instructor. Coincidence or synchronicity? Strangely I had for the last year also been learning Russian language at a night school! When I spoke to the Buteyko therapist over the phone, I was able to greet him in Russian , and he told me he was that impressed that he wanted to invite me along to his next course so I could witness the effects myself of this powerful breathing technique. Of course I gratefully accepted the invitation.
1999: I attended the course and after just one day, the whole room of asthmatics are literally transformed. I instinctively knew that this method had great potential.
2000-2009
CLICK TO READ
2
2000:
I attend a Buteyko Practitioner course in Oxford on the Buteyko Method and link in my Stress Management experience.
2000: For my own Personal Development I decide to do not one but two solo parachute jumps! I find this very scary but not as scary as what I do 15 years later!
2001: I travelled to Moscow and I was awarded the Advanced Buteyko qualification direct from The Moscow Institute in Russia. (I am the only English practitioner to hold this qualification) I also received tutoring in Person from the late Professor Konstantin Buteyko. I also notice that at this time in Russia there was little appetite amongst the general population for processed food and although I saw a lot of expensive cars and clothes in the Moscow & St Petersburg, in 3 weeks I saw only one over weight person! For the first time I started to wonder if there was a direct link between processed food and weight gain?
2002: I wrote my first book 'How to Swap asthma for Life'
2003: I qualified as an Adult Teacher after gaining both my 7307 Part 1 & 2 Adult Teaching Certificates.
2004: I start to put on Buteyko Practitioner Training Courses. I have people flying in from Spain, Portugal, Israel, Switzerland and the United States.
2005: I ceased teaching Buteyko practitioner courses because I realised that something was missing from the method. After consultation in Russia, it was agreed that the western diet of heavily processed food must be first acknowledged as a huge stumbling block to natural health and addressed along with the breathing therapy.
2005: I decided I needed to see the full holistic picture if I was going to be of maximum benefit to my clients. I realised I needed to acquire some more client 1-2-1 skills, including improved counselling and empathy skills. So I enrolled on a 2 year person centred counselling course.
2006: For personal development I did 12 months voluntary work at Citizen Advice Bureau & The Samaritans
2007~2009: I contiunue to treat clients using healthy lifestyle changes for Asthma, Condifdence Counselling & Weightloss
2010-2019
CLICK TO READ
2010-Now!
2010 

my second book is published and covers the four key areas required for self health protection.

B

reathing,

E

xercise,

D

iet &

A

ttitude. Ten days later I hear a voice in my head shout out "It's not

BEDA

its

ABED!" 

I realise I have got it all wrong, well not quite. But for any change we must first start with our own

Attitude, 

so I rename the method

ABED
2010: ABED 

is published in

Positive Health Magazine

.

2012:

I qualified in nutrition and sports training. 

2014: ABED 

receives official recognition by the

International Independent Therapists Institute 

and is the first in the UK to do so.

2015: My local newspaper put me on the front page of Hull Daily Mail. Dr Fatloss! The local NHS are impressed and with so many overweight staff, I am  invited to formally teach my method to help their staff to lose weight.
2015:

the local

NHS

after over 6 months of what seemed like messing me about, decided not to go ahead with my help, because some people in management were not comfortable' with the name , '

Doctor Fatloss NMQAA'.

Apparently

 someone in management had complained saying the name Dr Fatloss  implied I was

 a medical doctor and also that the staff were fat!

I reminded them of the letters I use after my name. 'NMQQA' No Medical Qualifications At All. However this was still not enough to satisfy them! I didn't give up, and the rejection spurred me on to write my new book THE NON~Pc DIET.
2015: I finally pluck up the courage to do something I have wanted to do for a long time. In 1999 I did a comedy session on stage and 'died'. It was horrendous! I vowed to myself I would one day do it again, smash it and lay the ghost to bed.  So in 2015 I do two separate comedy nights at two different venues in my home city of Hull. I found them even more scary than my parachute jumps, but the ride was well worth it, and I am pleased to say with all the laughing  from the crowd then the booing when I was hauled off stage for taking 'too long'. I am actually proud to to say i definitely didn't die, and although still felt the nerves I was more relaxed and it got even more laughs ' Ghost Slain!?
2016:

 I am about to make a LIFE CHANGING discovery.  There is in fact just a

 SINGLE CAUSE OF OBESITY! 

The cause of excess weight gain, is simply the excess consumption of processed carbohydrates. I am determined to bring this simple powerful truth to as many as possible. 

2016 NHS Hull invite me to coach their staff :

 6 months pass and no further with discussions. Apparently someone in management NHS took a dislike my name Dr Fatloss. I have a crisis of confidence and decide to drop the name. 

2017: The Non Pc Diet

 book is published.

2017: I trademark The Non Pc Diet.
2018:

I work on creating an online coaching alternative to diets and conventional slimming groups. I wanted to offer a weight loss coaching alternative that was accessible  affordable to everybody!

2019: After more than 25 years hard work I now know I am able to do what I have wanted to do. I decide that Dr Fatloss has earned his stripes and bring him back for good.
2019: November: The Dr Faltoss Diet FREE ONline Slimming Club Opens at first exclusively for Hull people
2020-present
Click to read
Get everything ready to lauch for a UK wide online health club for the people when we need to come together to help one another
Offer a safe platform that offers the same level of health coaching regradless of abilty to pay 
The People's Health Coach
Hi there, Michael here and thanks for looking at my site.
I have been passionate about natural health coaching for nearly 30 years
1993 Qualify as Stress Management Consultant 
1996 Granted Membership of The International Stress Managment Association
1999-2003 Qualify UK's only Moscow trained Buteyko Breathing Asthma Specialist
2000-2002 Qualify Person Centered Counsellor
2002 My Buteyko breathing Method How to Swap Asthma for Life Book is Published 

2004 Qualify as a 7307 Adult Teacher 
2007 Qualify as a nutritonist 
2009 Qualify as a personal fitness coach 
2012 ABED® Lifestyle Program becomes the first in the UK to awarded therapy status
2013 The ABED® Lifestyle Method Health Book is published 
2015 Hull NHS request my help to teach their 4000 Hull staff The ABED® health improvement program
2015 Hull NHS managment offended that my name Dr Fatloss  is not PC!
2016 I discover a huge link between the cause of T2 diabetes and the cause of obesity, namely the excess consumption of Processed Carbohydrates
2017  The Non Pc Diet® is published. The 1st diet that tackles the actual root cause of obesity. Suitable for vegans as well as meat eaters
2017 I appear on BBC radio talking about The Non Pc Diet® and my aim to create an online health club that's affordable for everybody  
204 Smart Health Club UK® offers 316 UK people 16 weeks of ABED life changing coaching for £5.50 p/w
Who is The Peoples Health Coach?
Asthma
As well as been the creator of The Non-Pc Diet® I am the UK's only Buteyko Asthma Breathing Specialist who was personally trained at The Buteyko Institute in Moscow Russia way back in 2002. 
I have helped many asthmatics become 100% free of their medication through this amazing natural treatment  I am also the author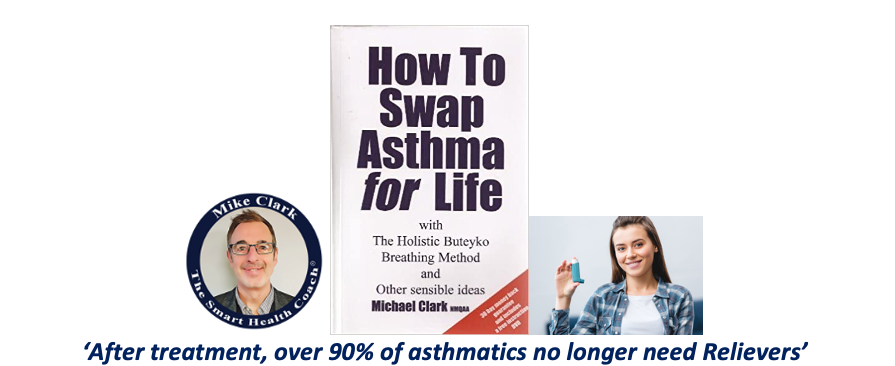 5.4 million people in the UK are currently receiving treatment for asthma: 1.1 million children (1 in 11) and 4.3 million adults (1 in 12).

Every 10 seconds someone is having a potentially life-threatening asthma attack in the UK.

On average, 3 people die from an asthma attack in the UK every day

Around 200,000 people in the UK have severe asthma, this is a debilitating form of the condition that doesn't respond to usual treatments and can cause people to be in and out of hospital

The NHS spends around £1 billion a year treating and caring for people with asthma.
Asthma UK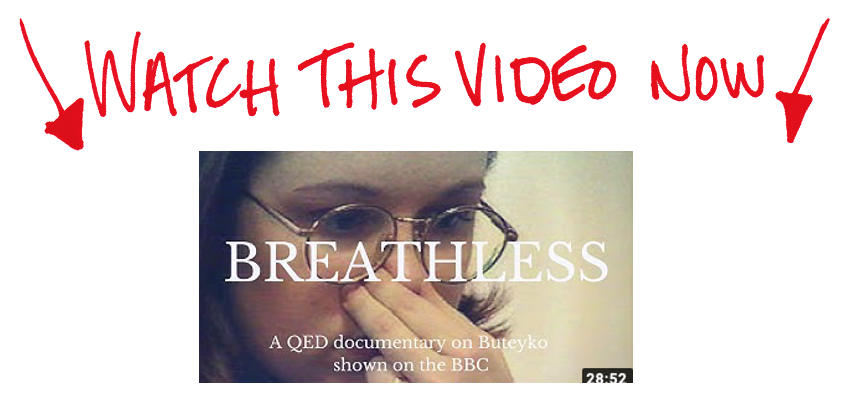 Click on the image above to watch BBC Buteyko Asthma video
The Buteyko Method is a perfectly safe breathing treatment, that has helped hundreds of thousands of asthmatics both adults and children, worldwide. 
I recommend you watch the QED Documentary called Breathless on you tube or click the link above.  
In 1999 I became one of the first health coaches in the UK to qualify as a Buteyko Breathing Asthma Coach.
In 2002 I travelled to Russia and trained at the Buteyko institute in Moscow in Advanced Buteyko. 
I am the only UK advanced Buteyko therapist personally trained by Buteyko's team in Russia
History of Buteyko
Konstantin Pavlovich Buteyko was born in Ivanitsa (about 155 km from Kiev) on January 27, 1923. This simple yet extraordinary man devoted his life to studying the human organism and made one of the most profound discoveries in the history of medicine.
Buteyko commenced his medical training in Russia in 1946 at the First Medical Institute of Moscow. Part of one of his practical assignments involved monitoring the breathing of terminally ill patients prior to death. After hundreds of hours spent observing and recording breathing patterns, he was able to predict with accuracy, often to the minute, the time of death of each patient. Each patient's breathing increased as their condition deteriorated and as they approached death.
Russian medical scientist Dr. Konstantin Buteyko theorised that there was a profound relationship between our breathing pattern and our level of health. Many of the founding fathers of modern medicine, such as Bohr, Henderson, Holden, Priestley and Lavosier had previously reached a similar conclusion. Buteyko devised a programme to retrain the involuntary breathing mechanism. No drugs or surgery were employed. Instead, a supervised training programme of tailored breathing manoeuvres was taught to patients. Dr. Buteyko found that when patients improved their breathing, symptoms in a large variety of chronic conditions diminished in severity.
When he formally presented his findings and a detailed theoretical explanation to the medical elite in Russia in 1960, they were outraged at the proposal of a non-medical treatment which claimed superior results. However, by 1967, official statistics cited over 1000 people "cured" of asthma, hypertension and other related conditions through Respiratory Reconditioning. The response from the medical establishment was to prohibit publication, or even lectures on the phenomenon. To this day, the vested interests of drug companies and surgical intervention have invariably slowed down the spread of knowledge about this drug-free approach.
Despite repression from Soviet medical authorities, Dr. Buteyko's work was supported by grateful patients, who included academics and the many of the political elite. Athletes and the military also supported Respiratory Reconditioning for its facilitation of super-endurance. Dr. Buteyko trained practitioners and they travelled around the USSR, promoting and teaching Respiratory Reconditioning, successfully treating tens of thousands of people.
In 1980, it was endorsed by the Ministry of Health after successful trials, but conservative medical resistance thwarted its general implementation. In 1990 the Buteyko Method was introduced to Australia, where published medical trails showed that severe asthmatics reduced symptoms and their need for reliever medication by 90% and inhaled steroids by 49%.
So far hundreds of thousdands of asthmatics worldwide have successfully learned the Method.
The Buteyko Method has been featured in numerous major news articles and television documentaries.
The Buteyko Method was first introduced to the UK and was widely supported by patients, acclaimed by the media and, again, featured in several television documentaries. (Breathless QED on the BBC)
Because of the support of individual medical doctors, the claims of tens of thousands of patients, the time and effort put into medical trials, news articles and television documentaries, the drug-free approach of the Buteyko Breathing technique is slowly being recognised by the NHS as a viable complement to allopathic medicine.




Diabetes
Click to see me in action helping a client with T1 Diabetes improve her condition through diet
The number of people living with diabetes has hit an all-time high to reach over 4.9 million
• 13.6m people are now at increased risk of type 2 diabetes in the UK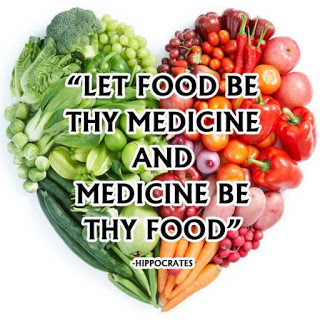 If  you have diabetes, are worried about diabetes or know someone with diabetes, then this information is for you. 
I have  personal interest in diabetes because I have been looking after one of my own children who has T1 since just before 2 years old. 
If you watch the videos above, T1 is is an autoimmune disease, to date thier is no cure.
~T2 is however as different story, this might be a surprise to you, contrary to what you read in the mainstream media, T2 Diabetes can be compleltey reversed, with enough real natural Non Pc  food and a full on correct attitude.
Diabetes is a serious condition where your blood glucose level is too high. It can happen when your body doesn't produce enough insulin, or when you can't produce any at all.
When you've got type 1 diabetes, you can't make any insulin at all. If you've got type 2 diabetes, it's a bit different. The insulin you make either can't work effectively, or you can't produce enough of it. They're different conditions, but they're both serious.
Other types of diabetes include gestational diabetes, which some women may go on to develop during pregnancy. And there are many other rarer types of diabetessuch as type 3c and Latent Autoimmune Diabetes in Adults (LADA) too.
In all types of diabetes, glucose can't get into your cells properly, so it begins to build up in your blood. And too much glucose in your blood causes a lot of different problems. To begin with, it leads to diabetes symptoms.
1 in 10 people aged over 40 in the UK are now living with diabetes
90% of those are with Type 2 and 90% of T2 are overweight or obese
The good news is as soon as you start reducing your PC consumption it will improve your diabetes and you will begin to lose excess weight.
Diabetes UK have kindly given me permission to give my members their amazing healthy cookbooks
Stress and Positive Mental Health
1 in 4 people will experience a mental health problem of some kind each year in England
1 in 6 people report experiencing a common mental health problem (like anxiety and depression) in any given week in England
79% of people say that work causes stress reguarly in their lives
74% felt unable to cope at times 
I have been helping others better manage stress and anxiety for over 25 years.
As well as been a trained counsellor and a stress managment coach, I am very keen on promoting the concept of postive attitude.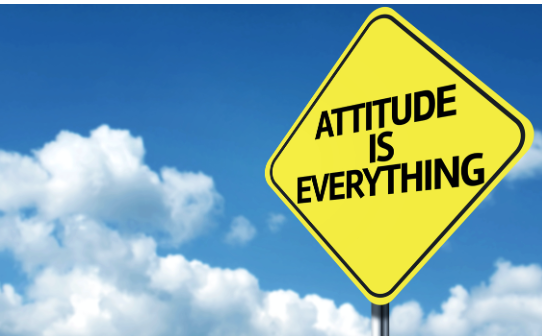 I am also a breath work specialist for stress management, positive mental health and blood pressure.
My resting pulse is 53 the same as my age and the rate of an olympic athlete, yet its my personal breathing style that allows this.
Indeed a recent medical trial showed that 5 minute daily breathing exercises lowered BP as much as drugs.
One of the greatest threats to our health and well being is isolation, indeed research shows that isolation can be a major contributing factor to depressions and mental illness.
Weight Loss
I created of the UK's 1st official healthy lifestyle program in 2010 
ABED©: A Four Step Lifestyle Health Program 
Attitude Breathing Exercise Diet 
In 2012  ABED© was awarded therapy status and officially recognised by the International Independent Therapists Institute 
In 2016 The Hull Daily Mail       covered the story and put Me on the front page.
From this story Hull NHS Hospitals contacted Me asking if I could teach The ABED© Method to help their staff lose weight.
I was determined to take ABED© to the masses and set about creaitng an online health and fitness club that was affordable for everybody. 
Click on the pic to watch Mike again in The Hull Daily Mail 
In 2017 I wrote  The Non Pc Diet- How to Have your cake & still lose weight!
The Non-Pc Diet is the first diet that identifies the root cause of obesity; namley the excess consumption of  Processed Carbohydrates 
This is the first diet that identifies and targets the main cause of all obesity and T2 diabetes,  the mass production and consumption of Processed Carbohydrates. 
Take a look at this UK beach front image prior to the mass production of PC's. 

What is The Non Pc Diet?
YHi my name is Michael Clark and I am a weight loss coach and I have been helping people lose weight naturally for over 20 years.
I am the creator of ABED® and the Non Pc Diet®, (Processed Carbs)
5 Reasons why The Non Pc (Processed Carbs) Diet is arguably the world's healthiest diet
1. Tackles the root cause of obesity (processed carbs)
2. Ideal for diabetics, optimises blood pressure and can even reduce the risk of developing cancer
3. Suitable for all eating types including vegans and vegetarians
4. You lose weight naturally with no need to count calories or even go hungry
5. The Non Pc Diet allows you to have your cake and still lose weight
You can try The Non Pc Diet risk free for 30 days and I personally guarantee you will not only lose weight but feel great or you money back and keep the kit.
Learn more about me clicking top right of this page
What is Smart Health Club?
An online mind and body healthy weight loss club with live coaching direct to your phone.
Membership is only £22 p/m for 1st 316 founder members